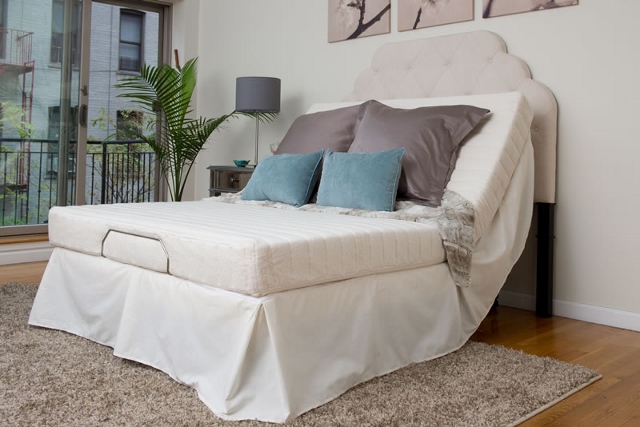 Click to Enlarge Picture
GoldenRest Package
Adjustable Bed Base
Adjustable Bed Supernal Mattress
1 Year Warranty
With the Supernal Recliner Plus 2 function adjustable bed, you can enjoy a long list of functionalities without feeling like your bedroom has turned into a hospital room. This stylish model has been designed for maximum comfort and aesthetic appeal. All electrical components are neatly hidden from sight so that no one will ever be able to guess that you own an adjustable bed.
Most importantly, the Supernal Recliner Plus comes with powerful motors that will provide smooth and easy operation. Both the head and the foot of the bed can be adjusted using the wireless remote control that is fully illuminated and easy to use, which makes operating your bed as simple as pushing a button. A emergency battery power down system comes standard and will ensure that you can operate your bed even if you lose power in your home. In addition, this wall hugging option also takes up as little space as possible and will ensure that you are always within easy reach of the night table.
When you order your Supernal Bed System, you can choose between you choice of two mattress options and a range of sizes. The Ascent I mattress is constructed using laminated foam that provides ventilation and promotes healthy skin and good hygiene. The Soft Touch option features cool form-fitting memory foam and either a quilted bamboo or vinyl cover.
Call us today to learn more about this innovative model that combines the best in engineering and craftsmanship from around the world. Get the assistance you need while still making sure that your bedroom is a pleasant sanctuary.

Product Reviews
Supernal Hi Low 3 function bed

Mar 15, 2015 7:56 PM

Jo

from

Grenada. West Indies

would recommend this to a friend.

A Little About Myself

Bought this bed for my Father who is 84 years. He has diabetes, parkinsons and arthritis

Pros

On an ordinary bed my father wakes with pains all over. No more pains & enjoys comfortable and peaceful nights . The bed lifts off the floor. We raise it to a height which makes it easy for him to get in and out The Accent Bamboo mattress- He says it's unbelievably soft and comfortable. Half length hand rails: we are assured that he won't fall off the bed. Wireless hand control so getting tangled is not a problem. Easy to see luminous buttons.

Cons
Service & Delivery

Our mobility specialist was very helpful and provided excellent & professional customer service. We - the entire family- thank you for your invaluable assistance & guidance.The bed arrived well packaged and everything was intact and protected from the elements. The bed arrived in the Caribbean well packaged and everything was intact and protected from the elements.

Elegant and sturdy. My Father is 84 years and we recommend this bed to everyone since it guarantees a comfortable night's rest. Adjustable head, foot and the bed itself.

3 of 3 people found this review helpful