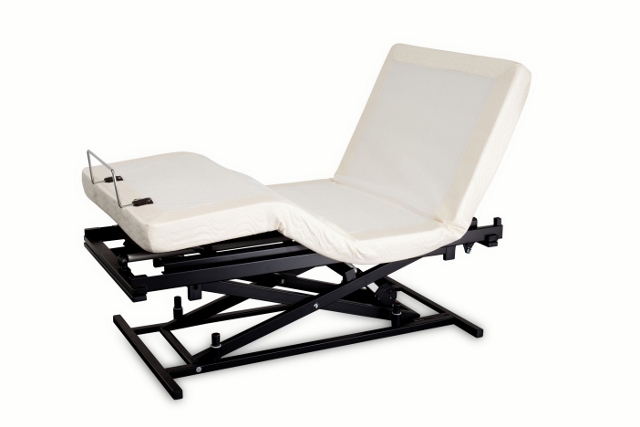 Click to Enlarge Picture
GoldenRest Package
Adjustable Bed Base
Adjustable Bed Supernal Mattress
1 Year Warranty
The Supernal Hi-Low adjustable bed is similar to the Recliner Plus model, yet offers additional functions that will make transfers even easier. The wireless remote control is easily accessible, fully illuminated, and simple to use. With just the push of a button, users can adjust both the head and foot of the bed and raise and lower the entire frame up to 10". You can enjoy personalized comfort while you sleep and perfectly position the height of your bed when you need to transfer.
Other standard features include:
Wall hugging design that takes up minimal space and keeps you close to your night table
Illuminated wireless control
Easy delivery, set-up, and storage
Emergency battery power down
When you order your Supernal Bed System, you can choose between you choice of two mattress options and sizes that range from twin to queen. The Ascent I mattress is constructed using laminated foam that provides ventilation and promotes healthy skin and good hygiene. You can also choose to upgrade to the Soft Touch option that features cool form fitting memory foam. Both mattresses can be fitted with either a soft quilted bamboo or easy to clean vinyl cover. The choice is all yours!
Not sure which adjustable bed model is right for you? Help is just a phone call away. Contact our experts to get answers to all your questions.

Product Reviews