Since as far back as 1250 BC, bamboo has been cultivated and processed by humans to make fabric and paper. It was the most common type of paper used in China during the Han Dynasty (from about 200 BC to 200 AD). The Chinese also perfected the technique of refining and processing bamboo to create fabric. The stalk of the plant is crushed, and naturally occurring enzymes further break down the fibers until they are pliable enough to be combed out like cotton. This creates a cool, breathable fabric which is very soft and provides a luxurious sleeping surface. Additionally, because bamboo grows at an extraordinarily fast rate (sometimes gaining as much as 4 feet of height in a day), it is a very sustainable and easily renewable source of plant fiber.
Natural bamboo fabric is inherently antimicrobial. The same is not true, however, of bamboo-based rayon fabrics; the chemical process by which such rayon is produced destroys the antimicrobial properties of the fiber. Our bamboo products are made from natural processes and retain all of their inherent antimicrobial properties.
GoldenRest's Bamboo Z-Mat Mattress is the most popular mattress we offer, and the mattress that comes standard with our Elite adjustable beds. The Bamboo Z-mat has three main components: the Z-Mat Bamboo Ticking, the Z-Mat Topper, and the Z-Mat Core. Both the Topper and the Core can be customized to your preferences, but whichever combination you choose, you will own the best adjustable bed mattress made today. All Bamboo Z-Mat mattresses are covered by a lifetime warranty against defects.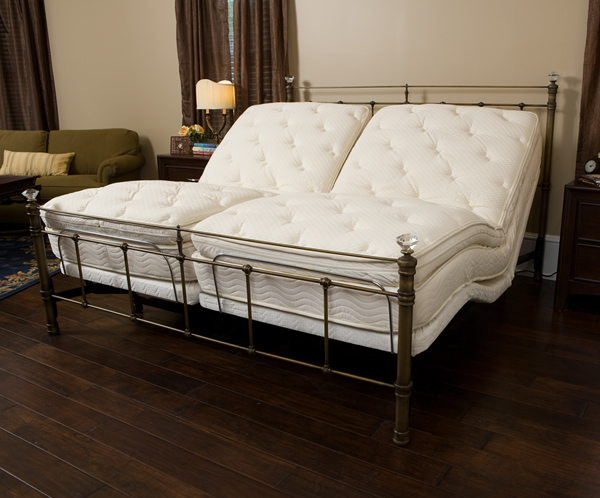 The GoldenRest Bamboo Z-Mat - Overview
The Bamboo Z-Mat is available in four configurations. Each of the configurations is shown below and then an explanation of the Z-Mat Topper and the Z-Mat Core follows.
Bamboo Z-Mat with Latex Topper and Spring Core
Bamboo Z-Mat with Memory Foam Topper and Spring Core
Bamboo Z-Mat with Latex Topper and Latex Core
Bamboo Z-Mat with Memory Foam Topper and Latex Core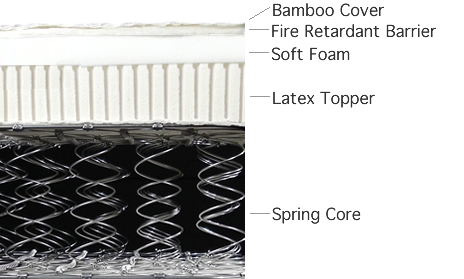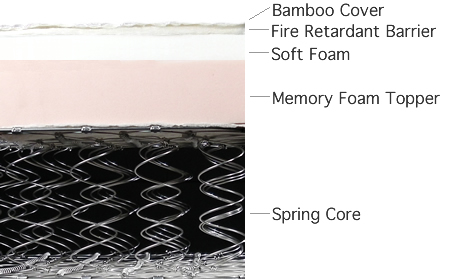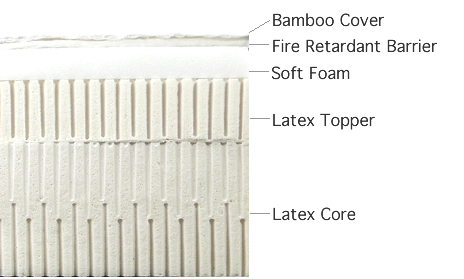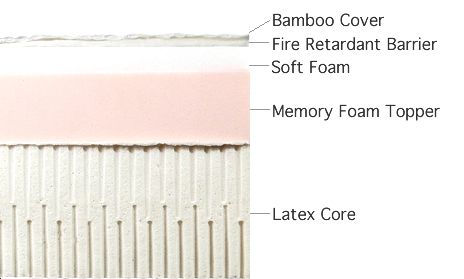 The GoldenRest Bamboo Z-Mat Bamboo Ticking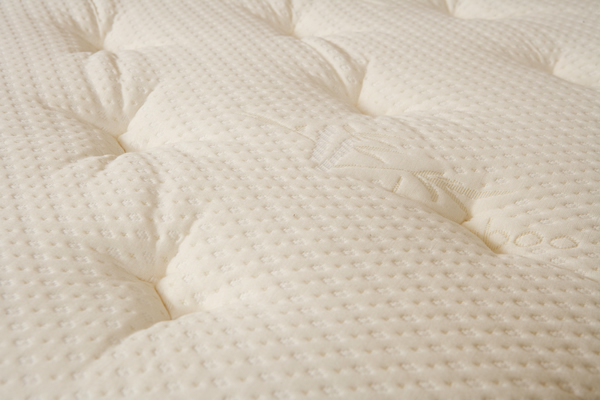 If you aren't familiar with the bamboo products being made today, let us first assure you that bamboo fibers produce some of the finest, softest fabrics available. In fact, our 300 thread count bamboo cotton sheets have nearly the same softness as our 600 thread count cotton sheets! But the Z-Mat's bamboo ticking isn't just soft, it also offers these additional benefits:
Naturally antibacterial and antifungal
Highly breathable
Dries much more quickly than cotton
Feels cool and fresh
Made from a completely biodegradable and renewable product
The GoldenRest Bamboo Z-Mat Topper
GoldenRest's Bamboo Z-Mat has been designed with a unique zippered top layer. This zippered top allows the topper to be exchanged without requiring a total replacement of the mattress. When you order a GoldenRest Bamboo Z-Mat you can choose a Viscoelastic Memory Foam Topper or a Talalay Latex Topper. The Memory Foam Topper measures 2.75" thick and is made of top-grade 5 lb. foam. The Talalay Latex Topper also measures 2.75" thick. Advantages of our Z-Mat Topper also include:
Free Z-Mat Topper Exchange - If you don't like the topper you chose, just call us and we will send you the other one at no charge! If you like a slightly firmer, springier feel, please start with the Latex Topper. If you like a mattress that conforms to your body, please start with the Memory Foam Topper.
The Z-Mat Topper can be completely removed and taken to a dry cleaner for a complete cleaning.
The GoldenRest Bamboo Z-Mat Core
The heart of our GoldenRest Bamboo Z-Mat is the Z-Mat Core. This core uses spring coils or it can be upgraded with a Talalay Latex Core. The Spring Core measures 7" and uses 660 steel coils in a Full size mattress and 783 in a Queen size. Coils are made from heavy duty 14.5 gauge steel with 6 turns per coil. The Talalay Latex Core measures 6" and offers a comfortable, supportive rest to sleepers of all shapes and sizes.
About Talalay Latex - Talalay Latex comes from the latex found in the sap of the rubber tree. The prepared latex is injected into a pin core mold, chilled, gelled, cured, and then washed. After washing, Talalay latex products are dried, quality tested, and then cut to size.
About Viscoelastic Memory Foam - Viscoelastic Memory Foam is a man-made foam product with a unique open cell design that reduces pressure points and isolates movement. Isolated movement means that movement in one part of the bed will not be felt in the rest of the bed. Memory Foam is also heat sensitive, meaning that it will become less rigid as heat from your body warms it up. This creates a molding effect that is liked by most people.